nocz stránky
news
---
09/2016
October tour with Elisabeth Nygård (Janáček 2016 Brno, Jihočeský jazzový festival České Budějovice, Jazz Goes To Town Hradec Králové, JazzDock Praha, Ebisu Brno) is supported by
---
06/2016
Great news about our Sinfonietta - Didrik Ingvaldsen Orchestra at the Janáček Brno festival 15.10. joins fantastic singer Elisabeth Nygård!
---
05/2016
First CD Didrik Ingvaldsen Orchestra "The Expanding Circle" is realising on November. Thanks to Hevhetia. Mix by Rainer Robben in Berlin is great!
new video NOCZ with Iva Bittová - Summer music festival Hevhetia 2015, Košice
---
02/2016
"The distinctive dynamism the NOCZ quartet displayed tonight with their emphasis on rhythm, collective improvisation and unique free style made for an explosive night of unconventional jazz played by consummate, innovative performers."
new great review Nocz in Spice of Life, London *****
by Lucy Murphy
We are preparing Janáček's Sinfonietta for 15.10.2016!
5th International Theatre and Music Festival Janáček Brno 2016
---
01/2016
We had a great small Czech tour in January - Černošice, Praha, Pardubice, Brno
photos from D29 Pardubice
---
11/2015
November recording with big ensemble - studio Orlí, NOCZ quartet added Marcel Bárta, Michal Wróblewski, Tomáš Hobzek, Petr Graham
---
10/2015
Lots of new concert videos from our summer tour with Iva Bittova to be watched........
www.facebook.com/nocz.eu
---
09/2015

new review NOCZ + Iva Bittová Bratislava 27.8.2015 by Rado Tihlárik SkJazz

Thanks to Ján Sudzina and Hev Het for having us on Grand tour with Iva Bittová. And to the wonderful audiences in Slovakia, Poland, Czech Republic and Hungary.
new pictures from tour
new video from Budapest Live in Lumen



---
08/2015
new great review Nocz & Iva Bittová by Adam Baruch (PL)
"Listening to this music is a true delight from start to finish!"
---
05/2015

new great review Nocz & Iva Bittová in Nový Populár (SK) *****
"Tak toto jo naozaj Nieczo! Skvela nahrávka! Plnokrvný jazz s totálnym ťahom na dreň."
Rado Tihlárik (1/15)


---
04/2015

new pictures


---
03/2015

come and see us soon:
28.03. Prague jazz festival Jazznění
29.03. interesting industrial space in Brno Industra



---
02/2015

summer/autumn tour NOCZ with Iva Bittová
16.06. Košice (SK)
17.06. Gliwice (PL)
27.08. Bratislava (SK)
02.09. Budapest (HUN)


all concerts are supported by
---
10/2014

just released new cd NOCZ & Iva Bittová (Hevhetia 2014)



listen to Pioux

for more see e-shop Hevhetia or section cd


we're on facebook





new photos by Tomáš Svoboda from Alterna Brno


---
09/2014

NOCZ is joined by Dag Magnus on drums for October tours, concerts are supported by
---
05/2014

review by JOHN KELMAN - Maijazz festival Stavanger (Nor)




---
11/2013

oo listen to NOCZ in ČRo3 Vltava


---
10/2013

oo listen to NOCZ live in Proglas

"I am happy to inform that portal "Pomoderna" have published a summary of the year 2013 - each of the authors had to choose 3 likes and 3 dislikes. I have written inter alia about Nocz Quartet which is, I believe, a brilliant piece of jazz.
You can find the text as you choose my name
Yours sincirely, Łukasz Łoziński"

new photos from the Toys, Toys and Toys release tour in October 2013 with special guests Martin Chodúr, Jiří Levíček, Jaromír Honzák

new photos by Drahomír Stulír from Desert Brno


---
09/2013

enjoy cd Toys, Toys and Toys

cd was recorded and mixed at studio V Zlín, mastered at studio AudioCue Berlin
some reviews Musikreviews.de
all about jazz
emusic
for more see e-shop Hevhetia or section cd

download poster Toys, Toys and Toys tour


about

Didrik Ingvaldsen - trumpet
Radim Hanousek - saxophone
Marian Friedl - double bass
Dag Magnus Narvesen - drums

special guest Iva Bittová - violin, vocals

Norwegian-Czech free jazz quartet NOCZ is led by Norwegian trumpeter and composer Didrik Ingvaldsen, who is active simultaneously on the experimental jazz scenes in Norway, Berlin and New York. Norwegian drummer Dag Magnus Narvesen implements his current activities mainly in Berlin. The Czech musicians Radim Hanousek and Marian Friedl work together in a number of Czech jazz formations, moreover Hanousek is seriously engaged in contemporary music and Friedl in Moravian folk music.

The music of NOCZ has a unique flavor based on the work of trumpeter Didrik Ingvaldsen, who combines modern trends of experimental jazz with classic free jazz approaches and a traditional lineup: trumpet, saxophone, double bass, and drums. Their music is characterized by lot of energy, distinctive dynamic breaks, heavily orchestrated passages alternating with freer ones, expressive melodies, emphasis on rhythm in the compositions, and collective improvisation.

Their common album NOCZ & Iva Bittová brings a unique combination of the Czech-Norwegian band that draws influences from free jazz, noise and ambient music with the distinctive Czech female vocalist, while their common distinguishing feature is an easy overcoming the genre barriers, sovereign expression in the field of improvised music and free vocalize combined with a significantly dense brass section and dynamic rhythm.

"An undoubtedly successful and progressive jazz album, rarely heard in our homeland!" (Jan Hocek - JazzPort)
"The compositions mix muscular, rhythmic free jazz with sonic experimental sonic elements, spiced with Balkan and Klezmer overtones, alternating between tight, orchestrated parts and fiery free improvisations." (Eyal Hareuveni - All About Jazz)

Singer and violinist Iva Bittová is one of the few artists from the Czech Republic to enjoy an international career. Her irresistible charm, original use of voice, and fondness of melodies that sit on the border of avant-garde and playground nursery rhymes won her devoted fans around the world, although the core of her audience resides in Eastern Europe. (AllMusic.com)



---
Osobitý charakter hudbě pět let fungující norsko-české free jazzové formace NOCZ udává interpretace skladeb norského trumpetisty Didrika Ingvaldsena, které kombinují současné trendy v experimentálním jazzu s klasickými free jazzovými postupy a tradičním obsazením kapely ve složení trubka, saxofon, kontrabas a bicí. Typická je velmi energická hra s výraznými dynamickými zlomy, kombinace prokomponovaných pasáží s volnými plochami, výrazná melodika, významná práce s rytmem v kompoziční práci i kolektivní improvizace.
cd
NOCZ & Iva Bittová -
Hevhetia 2014
(to buy the CD please visit e-shop at
www.hevhetia.sk
or see
contact
)
Iva Bittová - violin, vocals
Didrik Ingvaldsen - trumpet, el. trumpet
Radim Hanousek - soprano, baritone saxophones
Marian Friedl - double bass
Václav Pálka - drums, percussion
recorded and mixed at studio V Zlín (Petr Vavřík, Ivo Viktorín, Marcel Gabriel)
mastered by Alexej Charvát, studio Svengali Praha
reviews: Adam Baruch (PL)
JazzPort
Long Play
iDNES
skJazz
salt peanuts*
musikreviews
Cadence Magazine
Toys, Toys and Toys -
Hevhetia 2013
(to buy the CD please visit e-shop at
www.hevhetia.sk
or see
contact
)
Didrik Ingvaldsen - trumpet, el. trumpet, cornet
Radim Hanousek - soprano, tenor, baritone saxophones
Marian Friedl - double bass
Václav Pálka - drums, percussion
recorded and mixed at studio V Zlín (Petr Vavřík, Ivo Viktorín, Marcel Gabriel)
mastered at studio AudioCue Berlin (Rainer Robben)
reviews: Musikreviews.de
all about jazz
iDNES
skJazz
Harmonie
United Islands Prague 2013
Nový Popular
video
photo
DIO, Žižkov Meets Jazz, Akropolis, Praha 2015 (11x)
London Spice of Life + I'klectik Art Lab 2015 (5x)
Tour NOCZ & Iva Bittová 2015 (4x) Industra 2015 (photo Eva Svobodová) (30x)
Lumen, Budapest 2015 (photo Dávid Tamás) (5x) Festival Jazznění Praha 2015 (16x)
Mai Jazz Festival Stavanger 2014 (8x) Freedecký majáles U Arnošta 2014 (14x)
Alterna 2014 (photo Tomáš Svoboda) (29x)
Release tour 2013 Praha Brno Ostrava (8x) Desert Brno 2013 (photo Drahomír Stulír) (21x)
JazzDock 2010 (4x) Jazzinec Trutnov 2009 (photo Patrick Marek) (34x)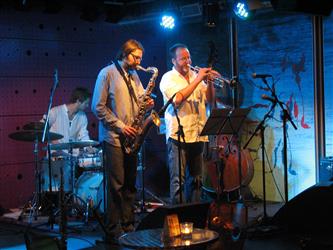 concerts

19.10.2016 JazzDock Praha +Didrik Ingvaldsen Orchestra & Elisabeth Nygård
18.10.2016 Jazz Goes To Town, Hradec Králové +Iva Bittová
17.10.2016 Jihočeský jazzový festival, České Budějovice +Didrik Ingvaldsen Orchestra & Elisabeth Nygård
15.10.2016 Reduta, Janáček 2016 Brno +Didrik Ingvaldsen Orchestra & Elisabeth Nygård
13.10.2016 Ebisu, Brno +Elisabeth Nygård

26.07.2016 Ebisu, Brno +guests Jaroslav Šťastný, Jan Navrátil, Vlado Micenko
25.07.2016 Ebisu, Brno
24.07.2016 Jazz ve městě, Frýdek-Místek

23.01.2015 Ebisu, Brno
22.01.2016 Pardubice
21.01.2016 České Budějovice
20.01.2016 JazzDock, Praha
19.01.2016 Černošice

27.11.2015 DI Orchestra, Žižkov meets jazz, Akropolis Praha

23.10.2015 I'klectik Art Lab, London (UK)
22.10.2015 Spice of Life, London (UK)
21.10.2015 Volyně
17.10.2015 Na věčnosti, Znojmo
16.10.2015 Jazzklub, Kyjov
15.10.2015 U Palce, Tišnov

02.09.2015 Opus Jazz Club of BMC, Budapest (HUN) +Iva Bittová
01.09.2015 Café Lumen, Budapest (HUN)

30.08.2015 Houpání u Svitavy, Brno
27.08.2015 Kníhkaviareň Foxford, Bratislava (SK) +Iva Bittová

17.06.2015 Gliwice (PL) +Iva Bittová
16.06.2015 Kulturpark, Košice (SK) +Iva Bittová

29.03.2015 Industra, Brno
28.03.2015 Jazznění Kaštan, Praha

18.12.2014 Vlněna, Brno

16.10.2014 Music Lab, Brno +Didrik Ingvaldsen Orchestra
14.10.2014 Radniční pivovar, Jihlava
13.10.2014 Sádrový ježek, Ostrava
12.10.2014 Alterna, Brno
11.10.2014 Sklepy, Boskovice

22.05.2014 Café Atlas, Brno
08.05.2014 Stavanger (Norway), Maijazz festival
05.05.2014 Brno, Ebisu
01.05.2014 Frýdek Místek, Freedecký majáles

30.04.2014 Frenštát, Jazzmaraton

31.10.2013 Praha, JazzDock
30.10.2013 Nymburk, U strejčka
29.10.2013 Brno, Desert
23.10.2013 Brno, live in Proglas
22.10.2013 Brno, Stará Pekárna
21.10.2013 Ostrava, Sádrový ježek
20.10.2013 Kopřivnice, Mandala
19.10.2013 Znojmo, Na věčnosti
18.10.2013 Ostrava, Stará Aréna

23.06.2013 Praha, Náplavka
21.06.2013 Praha, United Islands
20.06.2013 Brno, Desert
19.06.2013 Brno, Stará Pekárna

09.02.2013 Brno, Mýdlo
05.02.2013 Kopřivnice, Mandala

16.08.2012 Brno, Desert
14.08.2012 Zlín, Bamboo
12.08.2012 Ostrava, Cooltour

11.02.2012 Kyjov
10.02.2012 Praha, Kaštan
09.02.2012 Brno, Stará Pekárna

29.10.2011 Dunajská Streda, Are You Free
28.10.2011 Žilina
27.10.2011 Brno, Falk

24.11.2010 Brno, Podobrazy
22.11.2010 Brno, Starý Pivovar
21.11.2010 Berlin, Galerie Mario Mazzoli
20.11.2010 Berlin, Schlott

downloads

download poster nocz & iva bittová

download photo NOCZ
download photo NOCZ & Iva Bittová

download TechRider NOCZ
download TechRider NOCZ + Iva Bittová

download text NOCZ & Iva Bittová
download text NOCZ

music soundcloud


last cd nocz & iva bittová:
"Album eloquently titled NOCZ & Iva Bittová brings a unique combination of the Czech-Norwegian band that draws influences from free jazz, noise and ambient music with a distinctive Czech female vocalist. Their common distinguished feature is to easily overcome the genre barriers, sovereign expression in the field of improvised music and free vocalize combined with a significantly dense brass section and dynamic rhythm."...Hevhetia, 2014

review Adam Baruch
musikreviews
all about jazz


wrote about us:

nocz & iva bittová - "An undoubtedly successful and progressive jazz album, rarely heard in our homeland!" ...JazzPort, 2014/11 (Jan Hocek)

"Nocz Quartet is, I believe, a brilliant piece of jazz" ...Pomoderna, 2014/1 (Łukasz Łoziński)

"The compositions mix muscular, rhythmic free jazz with sonic experimental sonic elements, spiced with Balkan and Klezmer overtones, alternating between tight, orchestrated parts and fiery free improvisations." ...All About Jazz, 2013/9 (Eyal Hareuveni)

"Listening to this music is a true delight from start to finish!"...Adam Baruch, 2015/8
contact
booking and ordering CD: hanousekr@gmail.com +420 604 441 585